News Item: Fulcrum Performance STi starts its journey to World Time Attack 2012
(Category: Misc)
Posted by Admin
Sunday 27 May 2012 - 07:31:55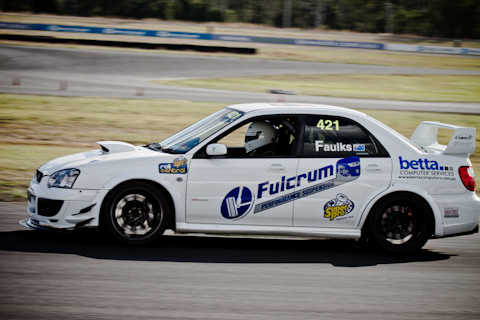 Although WTAC 2012 is Stephen's first year at Eastern Creek, this Brisbane based project manager is not new to the Time Attack concept taking his standard Impreza to the front in back to back wins of the 2009 and 2010 for the Queensland AWD Time Attack series run at Queensland Raceway. The standard STi block finally gave up after the years of punishment in September 2011 which started the WTAC 2012 journey.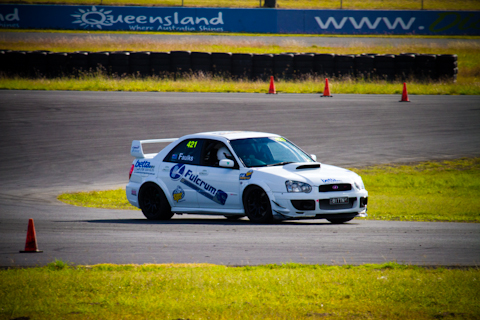 The rebuild started the same as any normal one – with a small budget and modest ideas, but soon became clear that the car was going to be something special when Stephen selected Nick from NA Autosport and Engineering in Brisbane to assemble the impressive list of components into a working engine and complete the fabrication on the custom pipe work under the hood and a new custom roll cage to replace the previous bolt in version.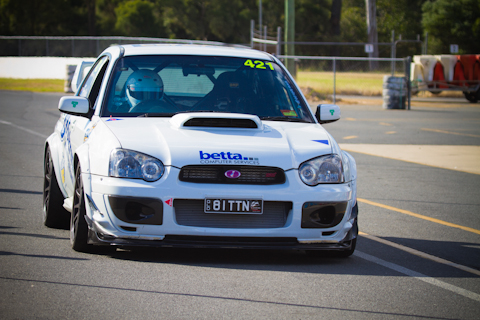 Stephen attributed his cars speed and ability to keep up with cars with a lot more horse power down to the work that Fulcrum Performance had done on the car in the past. So it was a logical step after the rebuild started to approach Graham at Fulcrum and go all the way.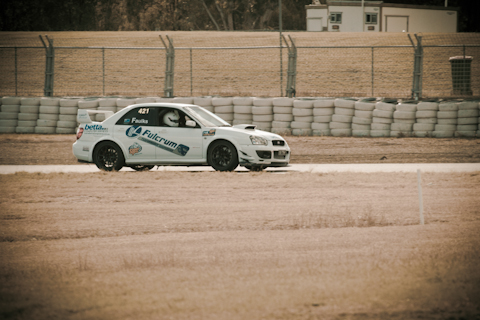 Graham has used his extensive knowledge to complete a base set up the Fulcrum Performance STi on 295 wide tyres around a set of Tien MonoFlex struts and the extensive list of available parts from his SuperPro range – all which are currently happily living under the car.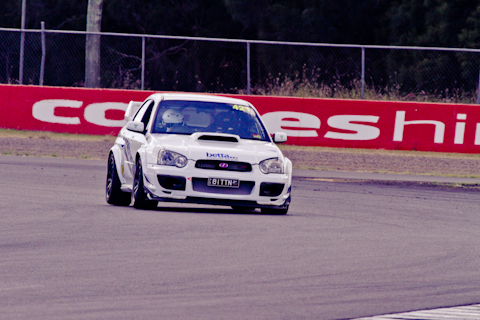 With the car finally starting again in May 2012; it made its way to a Sunday afternoon sprints at Queensland Raceway for the first of many shakedown. Stephen managed a fault free 15 laps on a run in tune and collected some important data for Nick to modify the tune to a full race tune.

Fulcrum Performance, NA Autosport and Engineering and Stephen will be taking every opportunity in the 2 months leading up to the WTAC event to test at Queensland Raceway and Lakeside Park.

Stephen puts out special thanks to Graham and Garry from Fulcrum Performance and SuperPro, Nick and the entire team from NA Autosport and Engineering, Dan from Car Mods Australia, Nev Scott, Mick McMillan and most importantly Andrea for putting up with the hours and hours spent playing with the car.

Engine

NA Autosport Custom built block

NA Autosport Custom heads

NA Autosport Custom fuel rails

Garrett GTX turbo

Cosworth inlet manifold

Process West V-Mount Intercooler and radiator with NA Autosport custom pipe work

Motec M800
Driveline
Standard STi DCCD 6-sp gearbox

Jim Berry button clutch

1-Piece Carbon Fiber Driveshaft

R180 rear plated diff
Suspension and Brakes
Performance Friction front mono block calipers and 355mm dog drive floating rotors

Standard rear Brembo calipers and Project Mu rotors.

Fulcrum Performance supported suspension including

Jap Spec Tein Mono flex coil overs

Complete SuperPro bushes and mount Roll Control kit
Wheels and Tyres
18x10 Rota rims

Hankook Ventus R-S3 (Z222) 285/35ZR18

Hankook Ventus TD (Z221) 295/30ZR18

Hankook Ventus (Z214) 275/35ZR18
Exterior
APR Splitter

HKS rear defuser

Kaminari Competition Brake kit

Wide body bolt on flares
Interior
Custom NA Autosport roll cage

OMP SuperTurismo wheel

OMP race seats

Tein EDFC

Standard factory dash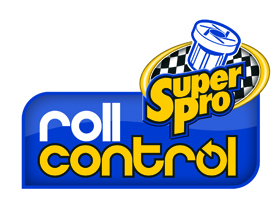 ---
This news item is from WRX Club of Queensland
( http://www.wrxclubqld.org.au/news.php?extend.40 )