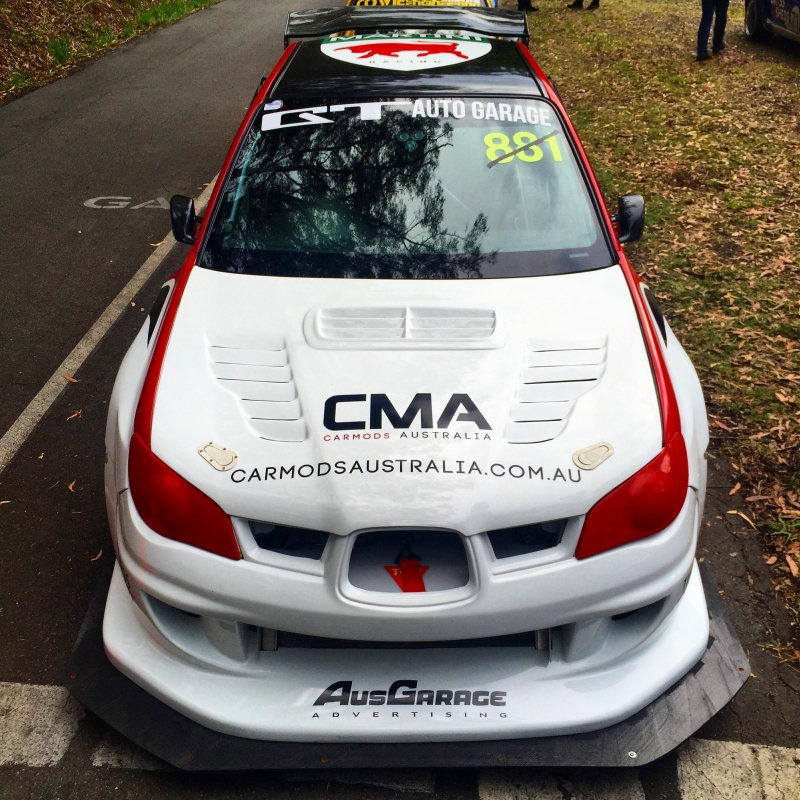 "The Hill" is classed as one of the premier hill climb events in Australia and runs on Gyndier Drive which runs through the Tewantin State Forest. The track surface is 1.5km of undulating bitumen of varying age which makes for challenging and exciting variations in grip.
The WRX Club of Queensland was represented by three cars, the
Bitten Motorsport STi
and the
AR Developments Evo
which was dual entered. They lined up against 159 of the fastest hill climb cars in the country including cars like the Skelta of Ray Vandersee; which competed in many Targa Tasmania's and also ran in the famous Pikes Peak in 2012.
The weather forecast for the weekend was not looking favourable in the lead up but after setting the cars up Friday afternoon there were no signs of the predicted rain. Saturday morning presented as a fine, but very humid day with the temperature managing to touch close to 35 degrees.
Saturday presented 4 runs to the guys and Steve from Bitten Motorsport went into the evening as the fastest tin top, with Mick and Corey in the AR Developments Evo just behind.
Sunday morning was wet and overcast, but the track soon dried out when the sun broke through to give 2 dry runs in the afternoon.
With a total of 8 runs Steve, Mick and Corey all finished strong with 58.41, 59.88 and 59.91 respectively. These results saw Steve taking home first in class, fastest tin top, fourth outright and the Glenn Ross Memorial Trophy for fastest AWD. Corey finished the weekend with third in class and seventh outright and closing out the Club's account was Mick with fourth in class and eighth outright.
Great work by the guys for the strong representation and to all finish within the top ten of a class event.
| | | | |
| --- | --- | --- | --- |
| Name | Car | Time | Place |
| Michael Von Rappard | Dallara Hayabusa | 53.12 | 1 |
| Warwick Hutchinson | Van Dieman RP92 | 53.96 | 2 |
| Darren Duffield | RPV 113 2600T | 57.31 | 3 |
| Stephen Faulks | Subaru WRX STi | 58.41 | 4 |
| Matt Read | Readster MTR1 | 59.44 | 5 |
| Zak Davids | Subaru WRX | 59.83 | 6 |
| Corey Baker | Mitsubishi EVO | 59.88 | 7 |
| Mick McMillan | Mitsubishi EVO | 59.91 | 8 |
| Garry Ford | Ford Escort | 60.00 | 9 |
| Ray Vandersee | Skelta G-Force | 60.25 | 10 |