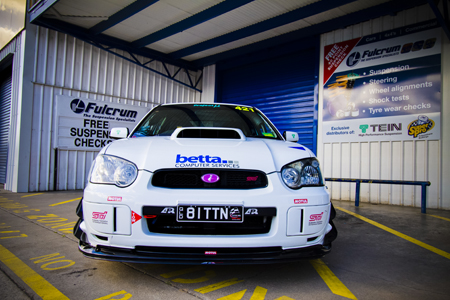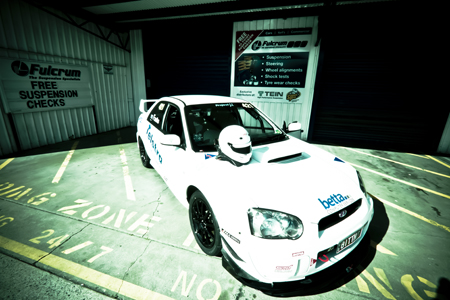 81TTN started life when i picked her up off the showroom floor from Subaru in 2004. She has since been sold, and then bought again, then driven as a street car, then stripped and used as a race car.
To read the entire development story please
log into the forum
and read all the finer details.
81TTN and Steve are regulars at tracks in South East Queensland, from QR and Lakeside Park, to Mount Cotton and Noosa hill climbs to street sprints.
With a standard engine, turbo and drive train 81TTn returned some very good results throughout 2009 and 2010 including
2009 Time Attack AWD - First Place
2009 Interclub Challenge Drivers Champion - First Place Outright
2009 Queensland Challenge - Third in Class
2010 Winter Dam Challenge - First Place Outright
2010 Queensland Challenge - First Place Outright
2010 Time Attack AWD (QR Series) - First Place
2010 Time Attack AWD (Lakeside Series) - Third Place
2010 Ironman Weekend - First Place Outright
2010 MG Noosa Hill Climb - Third in Class
During the first half of the year, Steve did a lot of investigation into the setup and turbos and decided to convert the standard VF35 setup to a complete Twin Scroll TD05 20G setup. Unfortunately the expected power gains were nowhere to be seen, so the development continues.
This year has resulted in a lot less track time, but 81TTN still manages to be first in class at the mount cotton hill climb series and is currently place 2nd on the WRX Motorsport cup for the year.
Go fast bits and pieces




* Tein Monoflex coilovers (8kg & 6kg) with EDFC
* Super Pro Camber Bolts, complete bush kit including: rear subframe mount,
diff support bushes, Roll Centre Adjustment, rack mounts, Anti Lift Kit- All Race Spec
* 24mm Rear Sway
* Full Corner weighted
* Project Mu SCR GT front Rotors & SRC rears. H16 Front and HC+ Rear pads
* TuningWorx twin scroll dump pipe and straight through exhaust.
* Level 3 custom tuned Ecutek ECU (Tune A 220kw atw on 18psi)
* Launch Control
* ID 1000 Injectors
* K&N inguard CAI



* JDM HID Headlights
* Custom Jim Berry 5 plate 3300 lb centre sprung button clutch
* JDM STi 72deg Thermostat
* Process West Oil Cooler (powder coated black)
* Process West TMIC with Splitter
* 6 Point Bond Roll Cage
* OMP steering wheel
* OMP Drivers & Passenger race seats.
* Custom Plated rear diff
* CBRD Billet wheel Twin Scroll (with headers and sump)
* HKS & APR Aero F&R






(photo at Mount Cotton taken by Luke Cole)

---

---