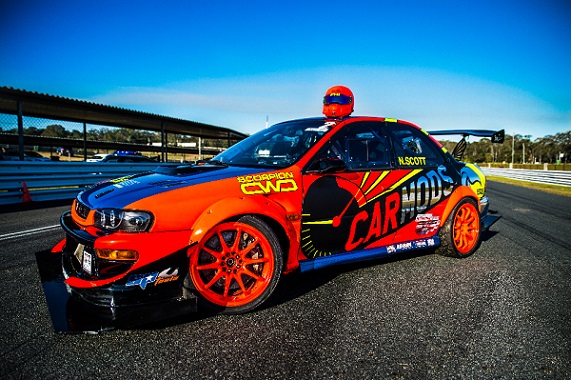 .Well with World Time Attack Challenge 2013 only weeks away, Nev Scott and Steve Faulks are in the final stages of preparation and testing.
Both cars are currently having some last minute changes made, but are well on track to be ready in time.
Nev pilots the
Car Mods Australia WRX
which is competing in the hotly contested Open Class. The brightly coloured GC8 is not all about the looks; it runs an EJ20 blocked stroked to 2.1l, Custom fuel system, Dailey Engineering dry sump, TSSFAB F&R subframes and arms, Process West Intake, V-Mount and fuel rails, KAPS 6 speed sequential, Front-Alcon Monobloc 6 piston calipers W/355×34 rotors , Rear-STI brembo 2 piston calipers and 300mm rotors, Custom diffs, Custom built WRC spec cage, MoTeC M800 ECU, MoTeC CDL dash, fibreglass doors and lexan windows along with some trick custom aero.
All this adds up to a car that should be right on the weight limit and have over 450hp at the wheels.
Nev backs up from WTAC 2012 where he blitzed the Club Sprint class to come away with a well deserved win.
"We are returning in 2013 with one clear goal in mind. To win. Simple as that." said Nev "We haven't made the step up from Clubsprint to Open just to make up numbers. Last year we were very focused on our goal and as the record books show we achieved it. Our time from last year was even hard to believe at first for us but we know from the data there was still a lot more left in the car last year."
Steve is the owner/driver of the
Fulcrum Performance STi
which is returning to Club Sprint class again, with the intention of bettering his 7th last year.
While a little more subtle than the Car Mods WRX, the Fulcrum Performance STi still hides some nice looking toys including a custom built NA Autosport 2.5l block with all the bits you would expect in a race car. Matched with the complete Fulcrum Performance package including Tein Super Racing N1's, EDFC Active, entire SuperPro catalogue all help it go around corners. Performance Frictions Mono Block callipers with 355mm front rotors and standard rear callipers with Performance Friction pads all help pull the rather heavy MY05 STi up. Similarly to the Car Mods WRX, there is a full array of Motec ECU, Diff controller and dash.
With having to run standard doors and windows the Fulcrum Performance STi still tips the scales at about 1400kg and has about 420hp which is the main difference between Club Sprint and Open.
Steve said "With the entry list now published I think that the class is going to be very tight and offer great competition with the likes of Dan Farquhar, Jason Naidoo and Darrin Morrice all putting in very respectable appearances at the Vic Time Attack and the NSW Time Attack and not to mention Jason Wright being a home town boy with a lot of laps and a lot of power behind him. I am hoping the Fulcrum Performance STi will have the package on the day to keep these boys honest."
The WRX Club of Queensland wishes Nev and Steve all the best for the 18th and 19th of October.
More information about the event can be found on
Click Here
and remember, they have the unique policy of fully open pits, so come by and say hi to Nev and Steve and check out their Time Attack race cars.