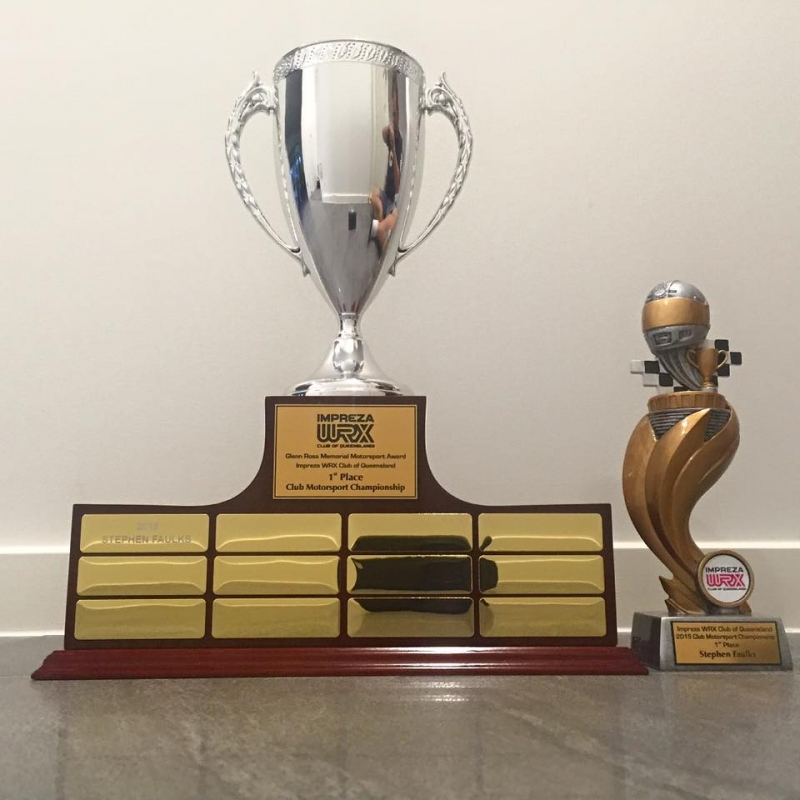 Congratulations to the 2015 Impreza WRX Club of Queensland Motorsport Championship winners.
The closest championships this club has seen in years, Michael McMillan and Jason Keen were grabbing as many points as they could, swapping 1st and 2nd position for the entire year. Stephen Faulks secured a from behind victory during the last scoring event for the season at Noosa Hill Climb when he took maximum points for his victory there.
Steve also has the honor of being the first to receive the perpetual Impreza WRX Club of QLD Glenn Ross Memorial Trophy for his hard work in earning the championship. Avid motorsport enthusiast, competitor and Club President Glenn Ross tragically passed earlier this year. He will always be watching from the great racing circuit in the sky, and I'm sure is proud of everyone keeping the motorsport passion alive in the club.
For club members who apparently can drive fast, the 3 members who were last to arrive to our trophy ceremony were, you guessed it, the podium winners. Let's not mention that the ceremony was held up by the arrival of the fastest driver there...
Well done to all drivers who competed this year, and we can be sure to see more heated battles as the 2016 season has already begun!
1st Place: Stephen Faulks
2nd Place: Jason Keen
3rd Place: Michael McMillan