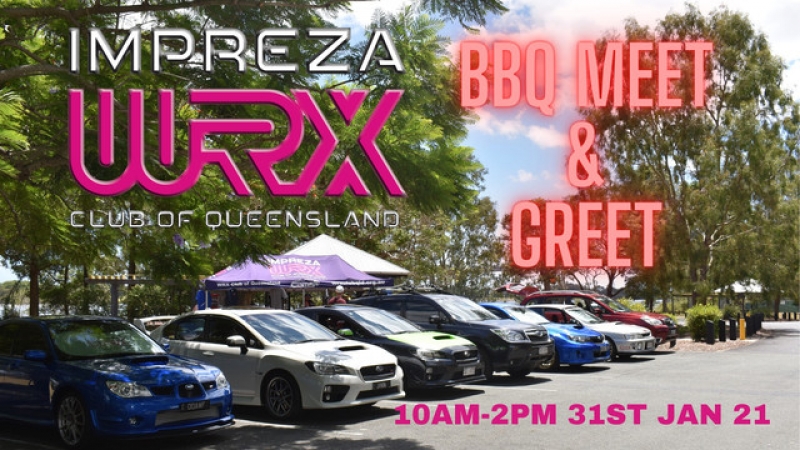 Welcome to the WRX Club's first event for 2021
At the start of each year we like to kick things off with a social event; the MEET AND GREET.
This is a great opportunity for all club and non-club members (existing, new and prospective) to get together and enjoy a BBQ and refreshments.
Details of this event:
WHEN - SUNDAY 31st January from 10am to 2pm
WHERE - Colmslie Beach Reserve at the end of Colmslie Rd - its on the South side of the river just to the west of the Gateway Bridge
BYO - Chair
Other Info:
The club will be having a FREE BBQ and refreshments for everyone! We will use the undercover area and BBQ's there and we'll have the club marquees there for extra shade as well.
We would like to emphasise that this is a FAMILY event - your partners, kids, dogs etc are very welcome. The reserve has loads of parking, grassy areas, kids playground and public toilets.
If you could please RSVP as we will need to know rough numbers so we can cater, as we would hate to not have enough food.
*** COVID SAFE EVENT ***
This event will be in accordance with all COVID regulations.
Upon arrival every adult will need to sign in and hand sanitise. You will need to show proof to the committee member at the entrance to the marquee that you have signed in to receive a wrist band. NO WRIST BAND MEANS YOU WILL NEED TO LEAVE.
All food will be cooked while wearing gloves and a mask.
Committee members will serve and handle the food wearing gloves & masks. Please DO NOT serve yourself.
There will be hand sanitiser available for all to use.
Please remember to stay home is you are:
- Unwell or have a cough
- Fever
- Sore Throat
- Fatigue or Shortness of breath
And do not forget to social distance 1.5m apart.
Looking forward to seeing you
WRX Club Committee
**NOTE** there are 2 Comslie reserves right next to each other. We will be at the one WITHOUT the pool.