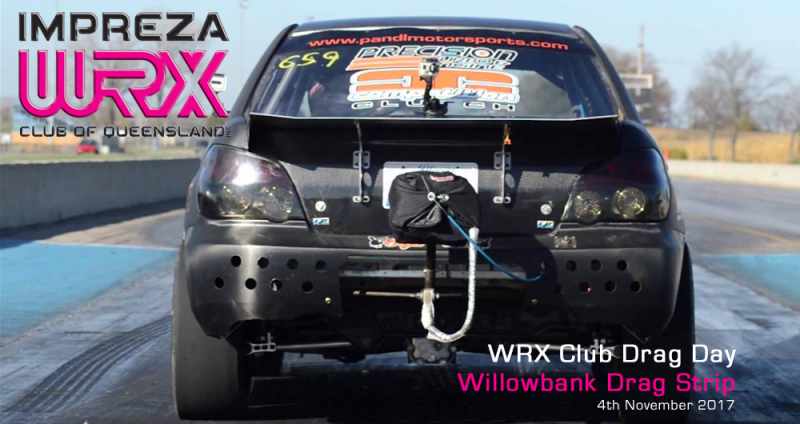 PLEASE READ ALL THE EVENT INFORMATION.
Time to get out on the drag strip to see what you've got. It's all going to be in the name of fun with some grudge racing & will be a good opportunity for those wanting to test their setups. We will have the track to ourselves for 2hrs before the Saturday night Race Ya Mate event & will also be able to stay & race in the Race Ya Mate event after our event.
This event is shared event with the j-spec community.
ALL CARS & BIKES ARE WELCOME AS LONG AS THEY RESSEMBLE SOME SORT OF ROADWORTHYNESS, WORKING LIGHTS, NO FLUID LEAKS, ETC!!!!!!!
This will be pre pay only for drivers, spectators can pay at the gate on the day.
4th of November 2017 at Willowbank drag strip
Gates Open: 2pm (please be there about 1:45pm so I can sort your tickets)
Racing: 2:00pm to 4:00pm
Only 10 spots available (if we fill these I can get a few more places
PRICING.

Price: Racing - $65 (This includes entry into the race Ya Mate event after our event)
Spectators - $20 Student - $18 Children 13 & under free. (Spectators pay at the gate)
Paypal link will be made soon
VEHICLE REQUIREMENTS:

Street Vehicle Drag Regulations
Click Here
PASSENGER RIDES:
•Passenger MUST be 18 years old as a minimum - ID must be shown
•$20 per passenger - paid at scrutineering
•Paperwork to be completed at scrutineering
•Only one passenger permitted in the vehicle at a time
•Passenger must have approved helmet, long sleeves, long pants and covered shoes
•Vehicle must have passenger seat, seat belt/harness and windows must be closed
•The passenger is only permitted to ride in the vehicle he/she has signed the indemnity form
•Vehicles must have a known performance of no quicker than 12.00 seconds.
OTHER INFORMATION:
•Helmet Requirements - IHRA licence holder is to abide by the current IHRA rule book at any event. At Test'n'Tunes and Street Series events we will be allowing street vehicles (i.e - non IHRA licence holders) to still use the AS1698 standard helmet
•Purpose built race vehicles, cars quicker than 10.00 and motorcycles quicker than 9.50 must comply with the relevant IHRA Class and Safety regulations pertaining to the vehicles
•Any non IHRA licenced street vehicle running quicker than 10.00 WILL NOT receive their time slip