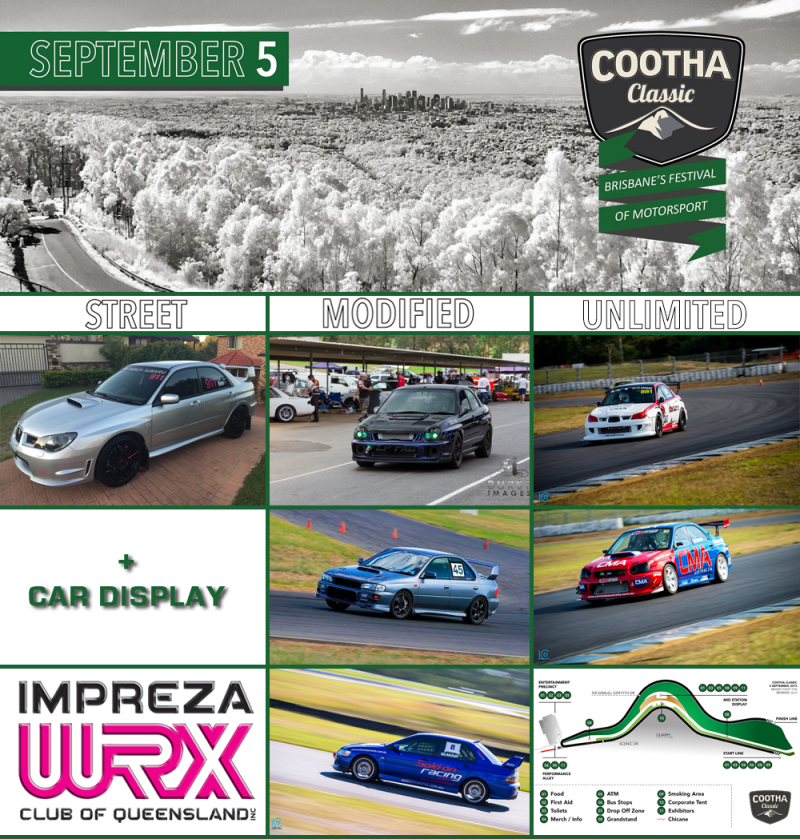 .
Based in the heart of Brisbane, the Cootha Classic makes motorsport easily accessible to local residents.
At the core of the event, it is a celebration of motorsport, but there is so much more to it. With boutique food stalls, live entertainment, trade exhibitors, music, interactive displays and celebrity drivers complimenting the non-stop on track action.
The Club will be well represented with approximately 10 cars on show in the display area from the older GC8's to the current VA's, but all will be beautifully presented to represent the iconic WRX brand.
To go along with the looks, the Club will also be showing off some of its muscle with at least three cars already securing their spots.
STREET
Representing
Monkeen Motorsport
will be Club President Jason Keen in his STi built by John French Motors. "The Monkeen Motorsports '06 STi "Cindy" has been built as my daily car that regularly drives to the race track, wins its class, and drives home ready for normal weekly duties. It has been built to be a reliable race car for the road"
MODIFIED
The club is represented in the Modified class by Hannah Taylor in her MY02 WRX. Hannah is a regular at Queensland Racetracks and runs extremely well in the Queensland Time Attack series.
UNLIMITED
Running in the Ultimate class, Stephen Faulks and the
Bitten Motorsport STi
will be pushing it all to the limit for outright honors. "I'll be up against GTs and some other high performance cars, so it'll be interesting to see how I go against those guys. The historic and special vehicle classes will be something to keep en eye out for as well – they're always awesome."
Daniel Callow will also be representing the Club in his recently completed
Car Mods Australia
Wide Body STi.
Treat yourself to a great father's day weekend on the 5th September and head to the local hill climb and enjoy all the sites, tastes and racing.
For more information about the event check out the
Cootha Classic webpage